Programming Examples
Though most of my work with code supports web services and web-based interfaces, I do have an increasing number of stand-alone applications that were coded from "scratch".
MarkUpDown, my independently designed and coded Markdown editor, is the project I'm proudest of... currently. It shows a great example of my ability to execute a concept through to completion with a high-quality outcome.
But I enjoy having created everything on this page. SqlDb# is a particularly ambitious project to write a relational database system completely in C#. It was an excellent way to apply and improve my low-level development skills (here's one example). It already works well enough to use while prototyping, and I'm currently working on porting it to a Portable Class Library and adding indexing.
As the Internet was still reasonably new, I created a few desktop applications using Java and Visual Basic 6, from a Quake 2 server pinger (though long since retired) to a shareware email application to a web-page designer for members of the National Estuary Program.
Some of my application work is owned by those for whom I did the programming, though I would be happy to provide examples on request.
---
MarkUpDown (2016-)
---
PowerShell scripts (ESN for Navy Enterprise Data Center, 2014-15)
---
SqlDb# (2013-)
---
Build-A-PIVOT (BAP) Visual Basic Application (2001-2)
---
The Digest Handler (2003-4)
You're subscribed to an email list. The traffic is brisk, so you subscribed to the digest version. You no longer get emails every fifteen minutes bothering your busy day, but the digest is unnecessarily difficult to read. Enter The Digest Handler. Now digest emails will stop looking like endless streams of text like
this
, and start looking like something manageable, like this!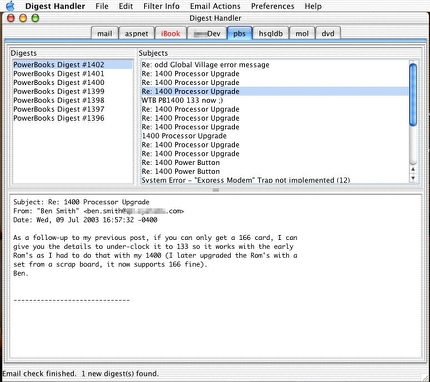 The Digest Handler isn't a mail handler. You don't have to give up Eudora or Netscape or mutt. Instead, The Digest Handler is made to work in tandem with your mail handler as it scans your inbox for new digests, downloads them, and parses them into an easy to read format. Download The Digest Handler and give it a try today! The Digest Handler is available for
Mac OS X
, 10.0 or higher, today. Windows (95 through XP) and Mac Classic versions are on the way!
(You'll note I didn't claim to be great at writing marketing copy.)
---
And just for fun,
here's an archive.org backup of that Quake server browser
!